Home
Annual NGO Consultation 2019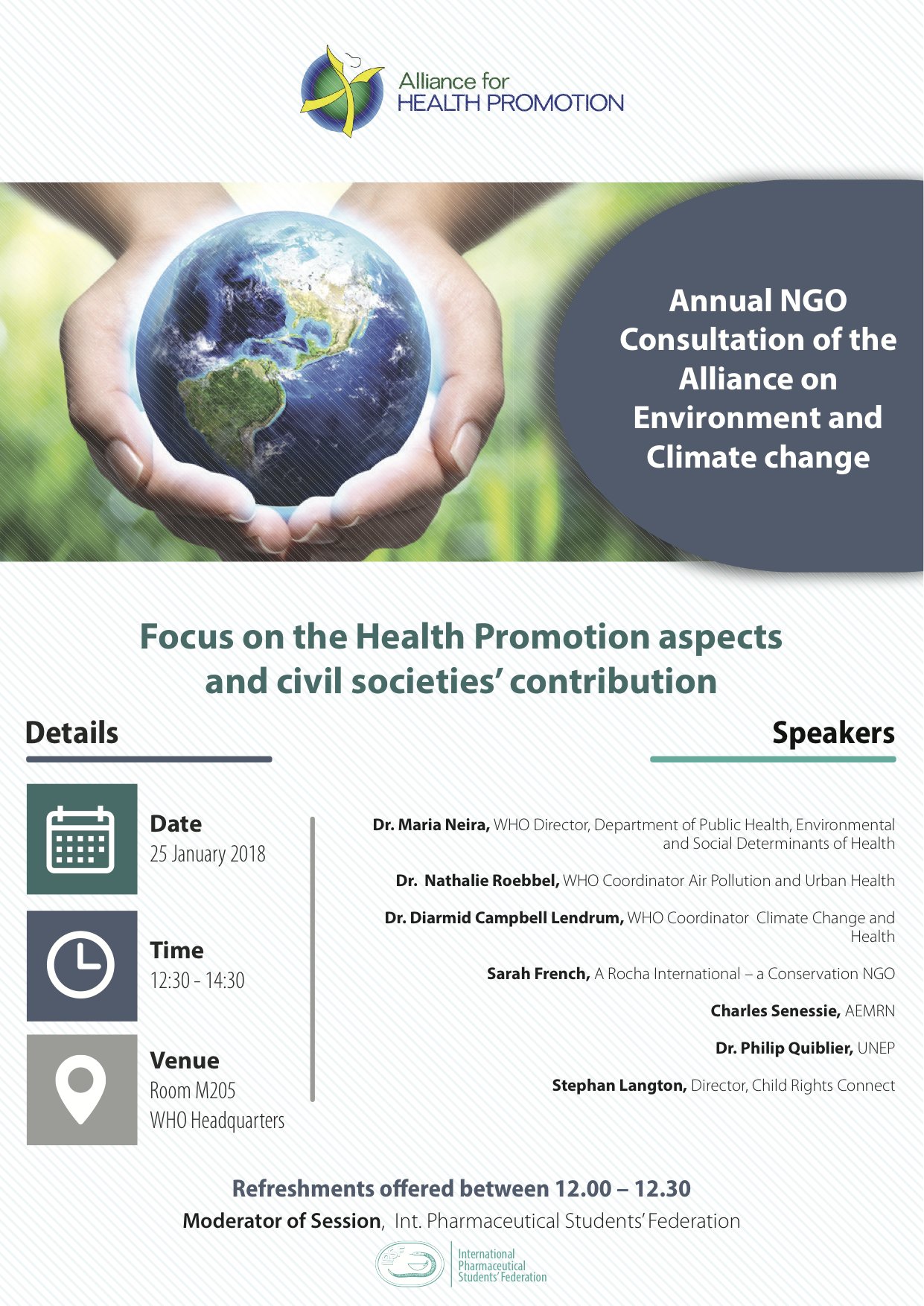 The Annual NGO Consultation of the Alliance will be held 25 January from 12:30-14:30 in Room M205 at the WHO
The Consultation will focus on the health promotion aspects and civil societies' contribution to  the Agenda item on Health and Environment and Climate Change.
The aim of our annual consultations is to bring together NGOs, WHO and governments, representatives at the Executive Board of WHO 
An Alliance committed to health promotion
The Alliance for Health Promotion (A4HP), established in 1997 at the 4th WHO Global Conference on Health Promotion in Jakarta, is an International NGO registered with the State of Geneva, Switzerland.
The Alliance is comprised of a network of NGOs from different sectors who share a dedication to health promotion. A4HP is an NGO in Official Relations with the WHO and holds Consultative Status with the United Nations ECOSOC. A4HP uses its global network to reach out to local communities with health knowledge and resources.
What is Health Promotion?
When thinking about health, medicine and doctors are the first thing that come to mind. In essence health is a much broader and inclusive subject with many different aspects to it and one of its key areas is Health Promotion.
We consider Health Promotion as the means to support individuals to take responsibility for their own health and to work for an environment in which they can be successful.
In 1986, the Ottawa charter for health promotion identified five action areas for Health Promotion.
Build Healthy Public Policies
Create Supportive Environments
Strengthen Community Action
Develop Personal skills
Reorient Health Services
30 years later, the Ottawa charter continues to provide a solid foundation upon which to build.
Health Promotion is the process of enabling people to increase control over and to improve their health

Ottawa Charter 1986
---