NGO Consultation of the Alliance for Health Promotion
co-organized with the International Pharmaceutical Students Federation
Wednesday 5 February 2020, 13:00-14:30
WHO M Building Room 505
Health Promotion to achieve Universal Health Coverage –
Working with the youth, through the youth, for the youth as a key population
Preliminary Programme
Welcome: Alliance for Health Promotion and International Pharmaceutical Students Federation
Opening remarks: Dr Naoko Yamamoto, Assistant Director General for Healthier Populations, WHO
Introduction to the theme: Dr Rüdiger Krech, Director, Health Promotion Department, WHO
Statements:
Dr Maria NEIRA, Director, Environment, Climate Change and Health                      Dr Diah SAMARSINH, Advisor to DG for Youth and Gender.                                        Dr Soumya Swaminathan, WHO Chief Scientist                                                        Arthur Wyns – WHO-Civil Society Working Group on Climate & Health
Civil Society translating global declarations into local actions and impact through engaging youth and applying health promotion strategies – How to work together?
Brief interventions and exchange
– International Pharmaceutical Students Federation, IPSF
– International Federation of Medical Students Associations, IFMSA
– Health Nexus, Canada
– Education and Solidarity Network
– International Federation of Red Cross
– International Union of Health Promotion and Education, IUHPE
Closing messages – How to go forward
---
"The Alliance for Health Promotion and the World Health Organization hold Successful Global Forum on Universal Health Coverage"
Geneva,18 November 2019
On November 12th 2019, the Alliance for Health Promotion organised the 9th Global Forum on Health Promotion in partnership with the World Health Organization. This year's forum took a particular significance in light of the High-Level Meeting that led to the first ever UN political declaration on Universal Health Coverage. The Global Forum provided the earliest opportunity  to connect influential actors in the field of health across the globe, from representatives of governments, civil society actors academia and international organisations.
With half of the world population still lacking access to essential health services, Universal Health Coverage needs to become a priority if Sustainable Development Goal 3 on health Is to be achieved by 2030. In the UN High-Level Meeting, governments committed to act so that all people and communities will be able to access and use all the health services they need without being exposed to financial hardship.
The emphasis of the UN Declaration on the involvement of all stakeholders and on the importance of health promotion as a tool to achieve Universal Health Coverage made the 9th Global Forum particularly critical and relevant. It enabled a much-needed discussion on how different stakeholders can put the declaration into practice. The President of the Alliance, Bernard Kadasia opened the forum with a call for action and by stressing the importance of multi-sectoral approaches including all stakeholders in order to tackle UHC. The WHO Assistant Director-General Dr Naoko Yamamoto further underlined the similarities and reinforcements between WHO's and the Alliance's missions..  This opening set the tone for discussions between civil society members, government representatives and international organisations. In the first panel, government representatives from Georgia, Germany, Sweden and several others repeated their commitment to Universal Health Coverage and laid out a road-map for future action. The panel's moderator, Dr Mihály Kökény, emphasized the role of health promotion in achieving UHC as well as SDG goal 3 on Health. The second panel, moderated by Dr Hussein Elsangak, gave a voice to civil society organisations and helped further translate the declaration into actions. Experts from around the world shared how their organisations are working towards UHC, from mobilizing youth to using technologies to maximize the impact of health programmes. Finally, Zsuzsanna Jakab, Deputy Director-General of the WHO, delivered the keynote speech and shared her vision on how the WHO will coordinate global efforts on Universal Health Coverage. She outlined WHO strategy to shift away from a focus on curing diseases, towards a focus on preventive approaches, which recognising the importance of health promotion.
With health experts from around the globe, and more than 100 participants, the 9th Global Forum for Health Promotion was a great success, enabling key stakeholders to share and discuss their visions on how to implement global declarations.
The Global Forum's organizer, the Alliance for Health Promotion, is a Geneva-based civil society organisation that seeks to participate in and shape health promotion discourses by providing a platform for dialogue and collaborations between IGOs, NGOs, health practitioners, policy-makers, educational institutions and students' associations from across the world.
To watch the video recording of the event, visit the following link:https://www.who.int
/healthpromotion/9th-global-forum/en/
For updates about upcoming events of the Alliance,
Write to us at: secretariat@alliance4healthpromotion.org
Follow us on Facebook: https://www.facebook.com/Alliance4HealthPromotion/
Follow us on Twitter: https://twitter.com/a4hp_geneva
Full texts for two of the speeches are also available:
For Rüdiger KRECH, Director of Health Promotion here: https://bit.ly/2OmMPs3
Full keynote speech by Deputy Director General of the WHO, Zsuzsanna JAKAB: https://bit.ly/2CPSEsT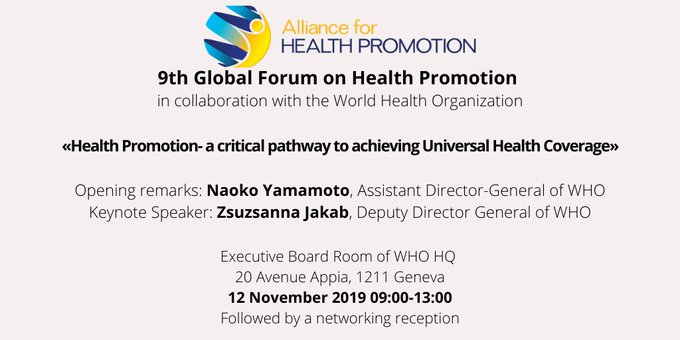 Programme 9GFHP 
---
Background on A4HP
The Alliance for Health Promotion (A4HP), established in 1997 at the 4th WHO Global Conference on Health Promotion in Jakarta, is an International NGO registered with the State of Geneva, Switzerland.
The Alliance is comprised of a network of NGOs from different sectors who share a dedication to health promotion. A4HP is an NGO in Official Relations with the WHO and holds Consultative Status with the United Nations ECOSOC. A4HP uses its global network to reach out to local communities with health knowledge and resources.
What is Health Promotion?
When thinking about health, medicine and doctors are the first thing that come to mind. In essence health is a much broader and inclusive subject with many different aspects to it and one of its key areas is Health Promotion.
We consider Health Promotion as the means to support individuals to take responsibility for their own health and to work for an environment in which they can be successful.
In 1986, the Ottawa charter for health promotion identified five action areas for Health Promotion.
Build Healthy Public Policies
Create Supportive Environments
Strengthen Community Action
Develop Personal skills
Reorient Health Services
30 years later, the Ottawa charter continues to provide a solid foundation upon which to build.
Health Promotion is the process of enabling people to increase control over and to improve their health

Ottawa Charter 1986
---